I'm trying something new. I'd like to periodically feature profiles of interesting entrepreneurs, and we've got a great one to start it off. Meet DeShawn Robinson-Chew of SheEO Academy.
______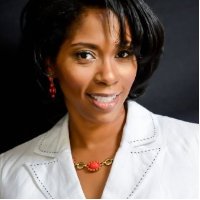 Some people become entrepreneurs because they have a good idea. Others are tired of working for someone else. And a few have a cause they want to advance.
Social entrepreneurs are becoming more common, but DeShawn Robinson-Chew didn't think of herself in that way when she started SheEO Academy.
DeShawn comes from a family of entrepreneurs, and small business was just part of who she was. She worked in her grandmother's catering company, sold homemade jewelry out of the living room window and was the Girl Scout who always sold the most cookies.
However, even with that background, when it was time to start working, she went for the "safe" job, working for someone else. Even those jobs, however, kept her in contact with entrepreneurs, especially in her position as Director of the Women's Business Center in Springfield.
It was that position which planted the seeds of SheEO Academy. One of her clients has started a construction company. However, she never referred to herself as owner, CEO or any similar position. Why? Because other male business owners would discriminate against her. Oh, they all knew, but as long as she didn't draw attention to her position, everything was fine.
DeShawn asked herself, "Why is that?" Why can't women be CEOs? While still at the WBC, she wrote the first business plan for SheEO Academy, and the idea was to encourage young ladies and teach them that entrepreneurship wasn't crazy.
She connected with the home schooling community and started the first Academy. Then she looked at government contracting and won several local government contracts to teach camps. The contracts gave her the flexibility to continue to be a wife and mother and still hold down another job.
Ironic isn't it? The woman who wants to teach other girls that it's okay to be an entrepreneur resisted going all in. Until recently.
In late 2013, she had a medical experience which told her she was not following her passions. She was in conflict because she was going in the wrong direction. Soon after that, she quit her full time job and went all in with SheEO Academy.
The Universe rewarded her by sending several opportunities her way, and she's committed to making this work.
Her camps and classes revolve around the five SheEO principles: being Sophisticated, Healthy, Educated, Entrepreneur, and Original. Through the camp, girls work on business ideas and learn what it means to be a business owner. They learn that they can be both women and CEOs. They also learn that if entrepreneurship isn't for them, that's okay. DeShawn shows them that we owe the world our originality. If we do it and are genuine, the world will pay us back.
I agree with that principle. I was not raised as a young girl to be an entrepreneur, but it's the most fulfilling thing I've ever done. Where was SheEO when I was eight?